HOW TO REGISTER PRIVATE LIMITED COMPANY IN PAKISTAN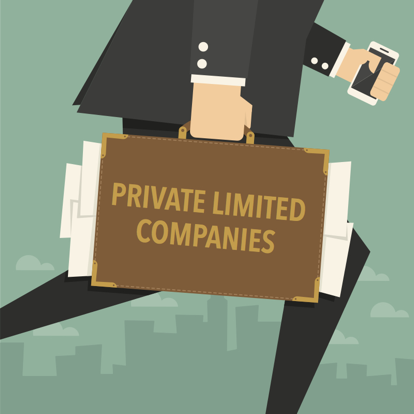 Welcome to Evolution Business Consultants Private Limited.
As you know, we already have a video on this topic. But, due to some latest amendments, we are making one more video on how to register a company in year 2019. As our followers already know, there are four ways to start business in Pakistan. 
If you are an individual and you want to start on a small level, you just need a NTN from FBR and you can register your company on a small level. 

Or, you can form a SMC Pvt. Ltd. Company. Via SECP

If you have partners, you can get it is registered as partnership firm using partnership deed under the partnership act 1932 in section 58i or as limited liability partnership in SECP. 

Or, you can form a private limited company if you have directors and are a part of corporate sector and want to enjoy its benefits. 
In an ABC Private Limited Company there can be minimum 2 and maximum 50 directors. Whereas, in a SMC single member private company, there is a single owner. 
In this video, we will talk about how to register private limited company in Pakistan in 2019. For all other topics mentioned above we already have videos present on our channels and we will share the links in description below. 
For all those who haven't subscribed to our channel as yet, you can subscribe by clicking the bell icon so that you can timely enjoy all the upcoming interesting videos. 
Whenever you register a company in SECP, it is registered under the company's act 2017. Earlier we had company's act 1984. Now the new act is applicable and all new registrations are made under the new act. 
As mentioned before, private limited company has minimum 2 and maximum 50 directors. Similarly, whenever a company is established, its capital needs to be declared. Frequently we have been asked questions related to this capital. Capital is the amount that is mentioned in legal documents that denoted the amount that has been invested to start this business. For example, if you are 2 directors and you declare 100,000 as capital and both the directors are equal partners, with a 50 percent shareholding then once the company is registered both will have to deposit 50,000 each in company bank account. This is subscription money for the shares they possess. The subscription amount should be transferred directly from personal accounts of directors. The evidence of this transaction is submitted to the auditor who further sends it to SECP. Otherwise, within 45 days a notice is issued to do the needful. Such questions will be dealt in this video as we have received much inquiry on them. You should this video till the end if you wish to learn and gain knowledge on this topic. If you have further questions, you can call, email or whatsapp us. We will further discuss frequently asked questions in our Q/A part. To get knowledge of legal issues regarding your business, subscribe to our page by clicking on the bell icon below so that you can timely watch our videos.
Now we like look at how are private limited companies registered in 2019 and onwards and what are the latest amendments? Most important and first step is selection of company name. You are recommended to shortlist a couple of names. Google also aids in selecting names that are not already taken. You will to check with roughly 80,000 companies which are registered with SECP for any conflict or resemblance. You can check this online on SECP website but it is a technical task. If you wish to avail services from Evolution PK, you can whatsapp, email or call us and our professionals can help you with these tasks. If we process this, whenever you apply for checking the availability, we will need director's cnic copies (you can whatsapp/email it to us), mobile numbers of all the directors, email address of all the directors and complete office address of company. Once we have all these, we will check if the name you have chosen is available or not. There is also a list of prohibited words by SECP which should be avoided. We will attach a link in the description for your review. For example, words like Askari, IMF and other financial words are not allowed by general companies. Once we have checked on the availability, we apply for it. Usually on the same day or the next, you receive a confirmation letter of availability. Once that is done, the name is reserved for you for the next 60 days and you need to incorporate the company in next 60 days in SECP. 
Requirements
For Private Limited Company Registeration
Once you apply in SECP, the documents that are required are as follows. The company file that is prepared should include:
Mobile number of directors

Email ID of directors

Registered Office Address of Company
Registered office address is any address where the company is located. It is an address which will be used by government officials to send any documents. Normally, whichever address you give in SECP, residential or commercial, gets accepted and then the NTNs also get issued and bank account is also opened. Normal companies can start their operations from here. For companies that go for Weboc and Sales Tax, import export companies usually, or manufacturing associated companies, they will need a commercial office address. 
Once these documents are sent, we will also needs information on the share percentage of directors. Then, we have to prepare memorandum association, article association, and form 29 and form 21. Previously, all forms were separate. Now all of these are merged into one 5-6 pager form. The memorandum association has company objectives. Company's Act of 2017 states that under one company you can do multiple businesses (any legal business subject to specific licensure requirements of specific businesses). To add, if your company for example is providing IT services, import export work, local services, you can work it all under one company. It can be any legal business. In your memorandum you have to share the main source of income with SECP.  In the beginning it will be difficult to tell which one is the main source of income but usually you choose the main field you are specialized in as the main source. For example, if you are an engineer, your relevant field services should ideally be your main objective. Additionally, you have all rights to do any legal business. After a year, if your company is operating 2-3 businesses, for example, import export, sector services and IT services, then you will have to evaluate the source that generates the highest revenue and then make the necessary amendments in the clause. 
Article association involves company rules, for example, responsibilities of directors, how will the meeting be conducted and policies of company. These need to be documented in article. Form 21 has company address. Form 29 has details of directors for example name, father name, address, date of appointment etc. These forms aggregate to form a file.
Once the file is prepared, it is officially submitted in SECP online. SECP offices are located in all cities. Mostly people prefer online submissions. In the next 5-8 working days the company is incorporated and certificate is issued. 
One window operation, as I mentioned earlier, shares all this data with FBR. From there, NTNs of all directors and company NTN is issued. A code is sent to email ids and phone numbers of all directors that contains PIN, Password and Login ID and NTN number is also mentioned. Following which, you open company bank account. For bank account you need minutes. Minutes is basically determines decision of signing authority as to who will sign the cheques issued either both the directors, or the accountant, or the appointed CEO. Whenever you appoint a CEO who is not amongst the partners/directors and he is issued a limit to sign cheques, and if for instance there is a bigger deal and you need a cheque of bigger amount, the authority lies with the directors. So basically these are minutes with all the terms and conditions consisting of which bank is opted, who are the directors and who has the authority. Once all this done, normally in 5 days your bank account is opened. The bank should always be in the relevant city of your company's registration otherwise problems arise is Sales Tax registration etc. These problems will be addressed later. 
 When we talk about CEO, he can be any one of the 2-50 directors or he may be a third person hired. Previously registered companies by the Company Ordinance of 1964 required registration of company first before appointment of officers which included auditor, company secretary, legal advisor, accountant, etc. including managerial staff and CEO were appointed together. Now, when you apply for company registration, the file includes declaration of CEO. If he is amongst the directors, just his name is given. If he is a third person, his ID card's copy is also attached. After the appointment of officers, some company including the trading companies, need a registration in Chambers of Commerce. Even if it any other company, you should register in local chamber as it gives a lot of benefits. It also invites to business forum where you can interact with various businessmen of the community. Also you need registration is Sales Tax (GST) and WeBoc. Ideally it should have been a part of one window operations but anyways you need these registrations. Our aim is to help and guide our friends and educate them. Friends if you are a wholesaler, distributor or manufacturer then sales tax registration is mandatory. If you are a retailer and your financial year turnover is more than 5 million then you may need sales tax registration. If you run an IT company, you have tax exemption for next 2 years. You can only avail that if you are registered with Pakistan Software Export Board. If you are starting an industry, different departments like health, environment, food then you need registrations from relevant departments. So whenever you start any business you will have to see how many registrations are mandatory.
We have tried to provide all general information in this video. If you have any question you can call, whatsapp or email us. We will reply you in our best possible time. If you have any logo design, get it registered in Trademark. The goodwill of company relies a lot on these brands and signs. You may have to face issues related to trademark after 2 or 3 or maybe 5 years even when someone uses your designed logo in another new business and you lose them because you did not register in the first place. Later you get indulged in legal issues so much that you lose focus in business itself. If you are a singlw owner you have an option of SMC Company.
If you want services of Evolution PK or you have any questions or queries you can contact us via calls, WhatsApp or Email. Our professionals are always there to help you.
How to Register a Private Limited Company 
How to Register  Trademark in Pakistan
Sole Proprietor Business / NTN Registration